To order a track and for proper pricing see tracks below this chart
Each Letter in the Letter Designation Column represents a different style track that will fit your sled. Please refer to the tracks below this chart and this reference chart to review all of the available tracks for your sled.
Model
Year
Type
Width
Pitch
Qty
Durado
Aggressor .750"
Vantage .750"
Letter
Designation
BEARCAT 340
95-00
8
15
2.52
54
ADKX0495475
A
BEARCAT 440 I
99-00
8
15
2.52
54
ADKX0495475
A
BEARCAT 550 W.T.
96-02
8
20
2.52
62
D
BEARCAT WIDE TRACK 4-STROKE
03-04
8
20
2.52
62
D
COUGAR
85-88
3
15
2.52
48
COUGAR
89-98
4.8
15
2.52
48
BEHJKQTIA
COUGAR 2UP
93
4.8
15
2.52
48
BEHJKQTIA
COUGAR MC
93-98
4.8
15
2.52
54
ADKX0495475
A
EL TIGRE F/A
74-80
7
15
2.52
46
EL TIGRE EXT
89-91
4.8
15
2.52
48
BEHJKQTIA
EL TIGRE MC
89-91
4.8
15
2.52
54
ADKX0495475
A
EL TIGRE 5000/6000
80-84
3
15
2.52
46
EL TIGRE
85-89
3
15
2.52
48
EXT
91-93
4.8
15
2.52
48
BEHJKQTIA
EXT MC
91-93
4.8
15
2.52
54
ADKX0495475
A
EXT SPECIAL
91-93
4.8
15
2.52
48
BEHJKQTIA
EXT EFI
93-95
4.8
15
2.52
48
BEHJKQTIA
EXT 580 EFI
94-98
4.8
15
2.52
48
BEHJKQTIA
EXT 600 TRIPLE
97-98
4.8
15
2.52
48
BEHJKQTIA
EXT 600 TRIPLE TOURING
98-00
4.8
15
2.52
54
ADKX0495475
A
EXT POWDER SPEC
95-97
4.8
15
2.52
54
ADKX0495475
A
EXT EFI/MC
94-98
4.8
15
2.52
54
ADKX0495475
A
JAG
75-81
7
15
2.52
46
JAG/AFS L/T
91-93
3
15
2.52
60
ADKX04784
JAG/DLX
92-99
4.8
15
2.52
48
BEHJKQTIA
JAG LT
81
3
15
2.52
60
ADKX04784
JAG AFS 340,440
85-91
3
15
2.52
46
JAG SPEC
92-93
4.8
15
2.52
48
BEHJKQTIA
JAG 440Z
94-98
4.8
15
2.52
48
BEHJKQTIA
LYNX 250
75
7
15
2.52
46
LYNX DLX
91-93
3
15
2.52
46
MOUNTAIN CAT 500/600 EFI
01-02
8
15
2.52
54
ADKX0495475
A
MOUNTAIN CAT 570
02-04
4.8
15
2.52
54
ADKX0495475
A
MOUNTAIN CAT 600 VEV
01
8
15
2.52
54
ADKX0495475
A
MOUNTAIN CAT 600 EFI
02-03
8
15
2.52
54
ADKX0495475
A
PANTERA
85-89
3
15
2.52
48
PANTERA
90-91
4.8
15
2.52
48
BEHJKQTIA
PANTERA 550
02-04
4.8
15
2.52
54
ADKX0495475
A
PANTERA 580/800
92-01
4.8
15
2.52
54
ADKX0495475
A
PANTERA 600 EFI
02-04
15
2.52
54
ADKX0495475
A
PANTERA 800 EFI
02-04
15
2.52
54
ADKX0495475
A
PANTERA 1000
00-01
8
15
2.52
54
ADKX0495475
A
PANTHER+
80-85
3
15
2.52
48
PANTHER
86-91
3
15
2.52
48
PANTHER DLX (ALL)
92-01
4.8
15
2.52
54
ADKX0495475
A
PANTHER 370
01
8
15
2.52
54
ADKX0495475
A
PANTHER 370R
03
4.8
15
2.52
48
BEHJKQTIA
PANTHER 440
02
15
2.52
54
ADKX0495475
A
PANTHER 570 ESR
02-03
15
2.52
54
ADKX0495475
A
POWDER EXTREME (600)
97-98
4.8
15
2.52
54
ADKX0495475
A
POWDER SPECIAL 500/EFI
98-00
4.8
15
2.52
54
ADKX0495475
A
POWDER SPECIAL 580/EXT
95-97
4.8
15
2.52
54
ADKX0495475
A
POWDER SPECIAL 600/EFI
97-00
4.8
15
2.52
54
ADKX0495475
A
POWDER SPECIAL 700.LTD
99
1.8
15
2.52
54
ADKX0495475
A
PROWLER 2UP
93
4.8
15
2.52
54
ADKX0495475
A
PROWLER
90-93
4.8
15
2.52
48
BEHJKQTIA
PROWLER MC
90-93
4.8
15
2.52
54
ADKX0495475
A
PROWLER SPECIAL
91-92
4.8
15
2.52
48
BEHJKQTIA
PROWLER EFI
94
4.8
15
2.52
48
BEHJKQTIA
PROWLER EFI 2UP
94-95
4.8
15
2.52
54
ADKX0495475
A
PUMA 2UP
95-97
4.8
15
2.52
54
ADKX0495475
A
PUMA DLX
94-97
4.8
15
2.52
48
BEHJKQTIA
T660 TOURING
04
15
2.52
54
ADKX0495475
A
T660 TOURING TURBO
04
15
2.52
54
ADKX0495475
A
T660 TRAIL TURBO
04
15
2.52
54
ADKX0495475
A
THUNDERCAT
93-02
4.8
15
2.52
48
BEHJKQTIA
THUNDERCAT MC
94-00
8
15
2.52
54
ADKX0495475
A
TOURING 4 STROKE
02-03
15
2.52
54
ADKX0495475
A
TRAIL 4 STROKE
02-03
4.8
15
2.52
48
BEHJKQTIA
TRAIL CAT
79-81
7
15
2.52
46
WILDCAT 650
88
3
15
2.52
48
WILDCAT 650/700
89-93
4.8
15
2.52
48
BEHJKQTIA
WILDCAT EFI,TOUR
93-96
4.8
15
2.52
48
BEHJKQTIA
WILDCAT MC
89-93
4.8
15
2.52
54
ADKX0495475
A
WILDCAT EFI/700/MC
92-96
4.8
15
2.52
54
ADKX0495475
A
Z 370/440/ES/ESR
97-03
4.8
15
2.52
48
BEHJKQTIA
Z370,440,LX
04
4.8
15
2.52
48
BEHJKQTIA
Z440 SNOW PRO/LC/FC
2003
4.8
15
2.52
48
BEHJKQTIA
Z 570 ESR,SS
02-03
4.8
15
2.52
48
BEHJKQTIA
Z570,LX
04
4.8
15
2.52
48
BEHJKQTIA
ZL 440
97-01
4.8
15
2.52
48
BEHJKQTIA
ZL 500/EFI
98-02
4.8
15
2.52
48
BEHJKQTIA
ZL 550/ESR
00-03
4.8
15
2.52
48
BEHJKQTIA
ZL 580 EFI/ESR
00-01
4.8
15
2.52
48
BEHJKQTIA
ZL 600/EFI/ESR/SS
98-03
4.8
15
2.52
48
BEHJKQTIA
ZL 700
00-01
4.8
15
2.52
48
BEHJKQTIA
ZL 800 ESR/ERI/SS
01-03
4.8
15
2.52
48
BEHJKQTIA
ZR 440 SNO PRO
93-02
4.8
15
2.52
48
BEHJKQTIA
ZR 500/EFI
98-02
4.8
15
2.52
48
BEHJKQTIA
ZR 580/EFI
93-97
4.8
15
2.52
48
BEHJKQTIA
ZR 600/EFI
98-02
4.8
15
2.52
48
BEHJKQTIA
ZR 700
95/99
4.8
15
2.52
48
BEHJKQTIA
ZR 600/EFI
98-01
4.8
15
2.52
48
BEHJKQTIA
ZR 800/EFI
01-03
4.8
15
2.52
48
BEHJKQTIA
ZR 800 EFI SNO PRO
2003
4.8
15
2.52
48
BEHJKQTIA
ZR 900
2003
4.8
15
2.52
48
BEHJKQTIA
ZR 900 SNO PRO/EFI
2003-04
4.8
15
2.52
48
BEHJKQTIA
ZRT 600
97-02
4.8
15
2.52
48
BEHJKQTIA
ZRT 800
95-01
4.8
15
2.52
48
BEHJKQTIA
+This track can also be installed on the following Artic Cat models by replacing the original sprockets with two (2) Kimpex #ADKX410834 and one Kimpex #ADKX410833.Therefore replacing Artic Cat original track #0102-294. Specifications: Slide suspension involute drive 16" wide, pitch: 37 (3.29") Artic Cat - 0102-294. 1980-Panther. 1981 - Panther 4000 F/C - West. 1984-85 - Panther.
**Idler wheel and shaft kit to be used with track ADKX04988 (ADKX0411611)
Durado Lug Profile (Standard Tracks)
*Durado tracks are standard replacement tracks built to the same specifications as original tracks. No modifications are required for installation. Constructed of high quality natural rubber, reinforced w/maximum strength & durability. (1 year warranty)
The following styles make up the Durado line.

Durado Type 2 - Rubber Molded Double Drive
| | | | | | |
| --- | --- | --- | --- | --- | --- |
| Item # | Pitch | Qty | Width | Your Price | Buy Now |
| KX04528 | 1.97 | 71 | 15 | | N. L. A. |
Durado Type 3 - Rubber molded involute drive W/steel clips for slide guides

| | | | | | |
| --- | --- | --- | --- | --- | --- |
| Item # | Pitch | Qty | Width | Your Price | Buy Now |
| KX04-535 | 2.00 | 52 | 15 | | N. L. A. |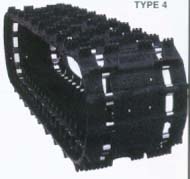 Vantage III Ultimate Traxtion
A kevlar reinforced track that's designed to be studded. 144 remolded holes right from the factory. Oversized clip
holes for improved lubrication. Gold plated clips for rust prevention. Waved rib across the entire width of the track
for superior traction. Oversized clip holes for improved lubrication & cooling. Involute Drive System

Find letter designation in the Application Chart
Letter
Designation
Item #
Lug
Height
Pitch
Qty
Width
Length
Holes
Item Price
Buy Now
IA
ADKX0464875
.750"
2.52
48
15"
121"
144

N. L. A.

J
ADKX04648100
1.00"
2.52
48
15"
121"
144
$459.99
After 5% discount at Checkout & ONLY $7.95 SHIPPING
Aggressor Lug Profile
(1 year warranty) A Kevlar/nylon constructed track. Kevlar is three times stronger pound for pound than
steel. Increased flexibility for a longer life performance and a great value. Waved rib across the entire width
of the track for superior traction. Unmatched durability as a result of its nylon/kevlar construction. Stretch
and shrinkage are virtually eliminated even under violent shock leads and low temperatures.
Involute Drive System

Find letter designation in the Application Chart for 1.0" lug and 1.2" lug
Letter
Designation
Item #
Lug
Height
Pitch
Qty
Width
Item Price
Buy Now
ADKX04926
.750"
1.97
63
16.5
$599.99
After 5% discount at Checkout & ONLY $7.95 SHIPPING
ADKX04932
.750"
1.97
58
15
$456.00
After 5% discount at Checkout & ONLY $7.95 SHIPPING
ADKX04933
.750"
1.97
58
16.5
$446.50
After 5% discount at Checkout & ONLY $7.95 SHIPPING
ADKX04937
.750"
1.97
71
16.5
$517.75
After 5% discount at Checkout & ONLY $7.95 SHIPPING
KX04-962
.750"
3.29
33
15
$473.54
After 5% discount at Checkout & ONLY $7.95 SHIPPING
A
ADKX0495410
1.0"
2.52
54
15
$589.00
After 5% discount at Checkout & ONLY $7.95 SHIPPING
B
ADKX0494810
1.0"
2.52
48
15
$522.50
After 5% discount at Checkout & ONLY $7.95 SHIPPING
C
ADKX0495310
1.0"
2.52
53
15
$589.00
After 5% discount at Checkout & ONLY $7.95 SHIPPING
D
ADKX04980
1.25"
2.52
62
20
$349.6
After 5% discount at Checkout & ONLY $7.95 SHIPPING
E
ADKX0494812
1.2"
2.52
48
15
$579.50
After 5% discount at Checkout & ONLY $7.95 SHIPPING
Vantage Lug Profile, Type 4
The vantage track is a direct replacement for original tracks. No modifications needed. Designed for the snowmobiler
who wants the safety and traction of a studded track but is uncomfortable with drilling or burning holes for studding. Rubber/Kevlar. (1 year warranty) Molded reinforced stud holes. Gold plated plated clips. Without studs a perfect trail
track with excellent traction, braking and rolling resistance. With studs - performance is greatly enhanced. Oversized clip holes for
improved lubrication and cooling. Involute Drive System.

Item #
Lug Height
Pitch
Windows
Length
Width
Your Price
Buy Now
KX04654
1.10"
8.82
+/- 0.20"
54
136"
15"
$522.50
After 5% discount at Checkout & ONLY $7.95 SHIPPING
Vantage II Lug Profile - Type 4
A nylon-polyester track with gold plated clips. This track is designed not to be studded. Wide clip holes for
improved lubrication. Waved rib across the entire width of the track for superior traction. Available in one size
2.52" x 48 = 121". (1 Year Warranty) Involute Drive System
Find letter designation in the Application Chart

Letter
Designation
Item #
Lug
Height
Pitch
Qty
Holes
Width
Item Price
Buy Now
H
KX04648100
1.00"
2.52
48
144
15"
$354.99
After 5% discount at Checkout & ONLY $7.95 SHIPPING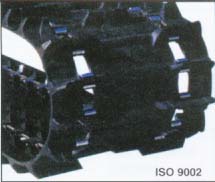 X-Force Snocross Lug Profile
For extreme traction and a maximum control, Kimpex has created the X-Force track. This track is
inspired by the technology of the motocross tire. That's what maximizes the performance and also
the traction in all the angles. Even if you turn, jump, speed up or slam on the brakes, the X-Force
will never let you down. 1.250" height for maximum traction. New angle cut side profile to improve
handling in curves. New X-profile for optimal acceration, cornering and braking. Pitch of 2.52" (48 pitch).
Approximate weight 38lbs. 15" wide. Length of 121" with quadruple profile. Silver clips. Certified. ISR
(open class). ISR certificationm pending for 440 and 600 pro chasis. Reinforced polyester construction.
Find letter designation in the Application Chart
Letter Designation
Item #
Compound
Engine
Lug Height
Length
Pitch
Windows
Width
Weight
Your Price
Buy Now
Q
ADKX04748125H
HARD
600CC & UP
1.25"
121"
2.52
48
15"
38LBS
$559.55
After 5% discount at Checkout & ONLY $7.95 SHIPPING
S
ADKX04748150
BOTH
(SEE BELOW)
1.5"
121"
2.52
48
14"
$608.00
After 5% discount at Checkout & ONLY $7.95 SHIPPING