Guaranteed the Best Prices on the Web for all Kawasaki Engines after our $7.95 Flat Rate Shipping Per Whole Order. Please see our ORDERING INFO page for more details.
*Most Engines are shipped same day on orders placed before 12:00pm Central Time.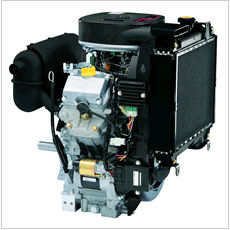 FEATURES
SPECIFICATIONS

-29HP
-MULTI PORT DIGITAL FUEL INJECTION
-OVERHEAD V-VALVE
-LIQUID COOLED
-90 DEGREE V-TWIN
-PRESSURIZED LUBRICATION
-ELECTRONIC SPARK IGNITION
-COMPACT ELECTRONIC CONTROL UNIT
-CHOKE FREE OPERATION
-OIL PRESSURE SWITCH
-WATER TEMPERATURE SENSOR
-HIGH PRESSURE ELECTRIC FUEL PUMP
-CAST IRON CYLINDER LINERS
Please note that our $7.95 flat rate shipping is for Fedex or Ups Ground Delivery Residential or Commercial. Engines that must ship freight (engines over 90lbs) are quoted for Commercial Delivery. If Residential delivery and/or lift gate is needed, we will contact buyer about shipping quotes.
MODEL #
REPLACES
OUR ITEM #
LIST PRICE
YOUR PRICE
BUY NOW
FD791D-(D)S00
FD791D-S00
FD791D-BS00
FD791D-DS00
KAWFD791D-FS00
$2400.00
$2183.80
AFTER 5% DISCOUNT AT CHECKOUT & only $7.95 SHIPPING
FD791D-(F)S01
FD791D-S01
FD791D-CS01
FD791D-DS01
FD791D-ES01
FD791D-FS01
KAWFD791D-FS01
$2650.00
$2349.95
AFTER 5% DISCOUNT AT CHECKOUT & only $7.95 SHIPPING
FD791D-(A)S07-01
FD791D-S07
FD791D-AS07
KAWFD791D-AS07-01
$2350.00
$2141.95
AFTER 5% DISCOUNT AT CHECKOUT & only $7.95 SHIPPING
FOR MORE REPLACEMENT KAWASAKI ENGINES - CLICK HERE

Don't See Your Model Listed? And you do not have a John Deere.
Or
Found The Engine For a Better Price on The Web?
Email PARTS@PSEP.BIZ and we will beat any prices and/or get you the model number of the engine you need. Please note we can not get any Kawasaki Engine for John Deere Equipment
Kawasaki Small Engine Parts By Category

FOR AFTERMARKET AND OEM MIX, USE THE CATEGORIES BELOW. FOR JOHN DEERE OWNERS PLEASE CLICK HERE FIRST.
FOR ORIGINAL EQUIPMENT PARTS ONLY WITH PARTS LOOKUP DIAGRAMS - CLICK HERE



Universal Engine Parts and Accessories









JOHN DEERE KAWASAKI MOWER ENGINE PARTS
FOR JOHN DEERE OWNERS PLEASE NOTE THAT JOHN DEERE HAS EXCLUSIVE RIGHTS TO THE ENGINES THEY INSTALL ON THEIR EQUIPMENT. THE MAJORITY OF THE PARTS ARE INTERCHANGEABLE (PISTONS, PISTON RINGS, FUEL PUMPS, IGNITION COILS, HEADS, GASKETS, VALVES, ETC.) THE MAJOR COMPONENTS LIKE THE CRANKSHAFT ARE NOT INTERCHANGEABLE. IF YOU PROCEED TO OUR OEM ONLY WEBSITE JOHN DEERE ENGINE SPEC NUMBERS WILL NOT WORK. YOU MAY USE THE CLOSEST SPEC NUMBER FOR THE MAJORITY OF THE PARTS AS THEY SHOULD BE THE SAME, JUST DO NOT ORDER ANY MAJOR COMPONENTS LIKE THE CRANKSHAFT UNLESS YOU KNOW THE KAWASAKI PART NUMBER IS THE SAME.
FOR ORIGINAL EQUIPMENT PARTS ONLY WITH PARTS LOOKUP DIAGRAMS - CLICK ON THE DIAGRAM BELOW