Husqvarna Outdoor Products (HOP) also known as AYP (American Yard Products) and EHP (Electrolux Home Products) is one of the larger mower manufacturers out there. They make newer Husqvarna, Dixon, Poulan, Poulan Pro, Sears Craftsman Mowers (MTD) and Yazoo/Kees parts along with older Roper, Jonsered and Rally riding lawn mower parts. Needless to say there are many parts made by HOP/AYP/EHP and we carry a very large range of aftermarket AYP mower parts (see categories below) and when we can't get aftermarket, we can get Genuine Original Equipment AYP, EHP, and Husqvarna Mower Parts.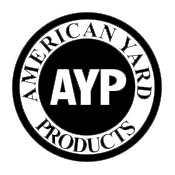 AYP Lawn Mower Parts By Category

If looking for Craftsman Parts Please note that all the categories below are for AYP made Craftsman Mowers that start with a 917.
If your Craftsman model starts with a 247 that is made by MTD - For MTD Parts - Click Here
If your Craftsman model starts with a 502 or 536 that is made by Murray - For Murray Parts - Click Here

















OEM Parts Lookup Diagrams
The parts lookup website (WWW.PSEP1.BIZ) is original equipment parts only. This website (WWW.PSEP.BIZ) has aftermarket and OEM mix on the most common parts. Please note that when you go to the new website if any items are in your cart they will not transfer over. All though they will be saved for 24 hours. When you are looking to place your order and have items currently in this website's shopping cart and want to add OEM parts from the other website, please phone your order in, please see our ordering department page for the proper phone number and hours of operation.
CLICK ON YOUR MANUFACTURERS BELOW

Husqvarna Labeled Equipment Only



Poulan, Poulan Pro and Weedeater Equipment Only


Misc. Other AYP Equipment including Rally / Roper, Jonsered, Partner, Agway,

ONLY $7.95 FLAT Rate Shipping AND THE BEST PRICES ON THE WEB. SEE OUR ORDERING INFO PAGE FOR MORE DETAILS. ALL ORDERS OVER $300 GET AN AUTOMATIC 5% OFF.
*Most Items are shipped same day on orders placed before 12:00pm Central Time.